Profile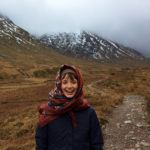 Tiffany Slater
My CV
Education:

University of Worcester, UK

Qualifications:

Bachelors degree

Work History:

It's a long list but I sold cotton candy and snow cones at sports stadiums, was a clerk in a law firm and worked in jewelry repair for several years.

Current Job:

PhD student
About Me

I'm kind of like a really hip, progressive granny who just happens to be 28 years old. I enjoy the simple things in life and have fun laughing – mostly at myself!

Read more

I am a Kentuckian 🐔🍗 living in Cork with my fiancé. He is an artist – talk about opposites! We have a lot of plants, which are standing in for our future dog. My hobbies are looking at dogs while walking🐶, running🐶and hiking🐶(but not too close to water😨). Oh and I love a good police drama or murder mystery 🕵️.
My Interview

How would you describe yourself in 3 words?

rebellious (I'm American after all), dependable and determined (although some may say stubborn...)

What did you want to be after you left school?

Kind. As far as a career goes? I had NO idea.

Were you ever in trouble at school?

Eek! Yes, I once stole a dollar from the rainforest jar to buy a pencil

Who is your favourite singer or band?

Shania Twain – Man, I feel like a woman!

What's your favourite food?

Cake, obvs... then broccoli

What is the most fun thing you've done?

Swing dance

If you had 3 wishes for yourself what would they be? - be honest!

That I would be nicer to myself, more courageous and that I continue to exercise (because of all the cake...).

Tell us a joke.

What did the policeman say to his bellybutton? You're under a vest.
Work photos:
---
---
---