Profile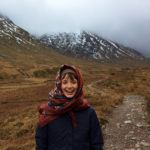 Tiffany Slater
Curriculum Vitae
Education:

University of Worcester, UK

Qualifications:

Bachelors degree

Work History:

It's a long list but I sold cotton candy and snow cones at sports stadiums, was a clerk in a law firm and worked in jewelry repair for several years.

Current Job:

PhD student
Favourite thing to do in science: look at small things under microscopes

About Me: I'm kind of like a really hip, progressive granny who just happens to be 28 years old. I enjoy the simple things in life and have fun laughing – mostly at myself!

Read more

I am a Kentuckian 🐔🍗 living in Cork with my fiancé. He is an artist – talk about opposites! We have a lot of plants, which are standing in for our future dog. My hobbies are looking at dogs while walking🐶, running🐶and hiking🐶(but not too close to water😨). Oh and I love a good police drama or murder mystery 🕵️.

My Work: I am a palaeobiologist investigating how fossil feathers are preserved. I'm interested in whether or not they contain ancient proteins that can help us understand how and when dinosaurs started adorning themselves with feathers.
My Interview

How would you describe yourself in 3 words?

rebellious (I'm American after all), dependable and determined (although some may say stubborn...)

Who is your favourite singer or band?

Shania Twain – Man, I feel like a woman!

What's your favourite food?

Cake, obvs... then broccoli

What is the most fun thing you've done?

Swing dance

What did you want to be after you left school?

Kind. As far as a career goes? I had NO idea.

Were you ever in trouble at school?

Eek! Yes, I once stole a dollar from the rainforest jar to buy a pencil

What was your favourite subject at school?

Maths, it's just so logical

What's the best thing you've done as a scientist?

Ask silly questions

What or who inspired you to become a scientist?

I didn't really have any inspiration – it's kind of a miracle that I am a scientist!

If you weren't a scientist, what would you be?

I would be a jeweler

If you had 3 wishes for yourself what would they be? - be honest!

That I would be nicer to myself, more courageous and that I continue to exercise (because of all the cake...).

Tell us a joke.

What did the policeman say to his bellybutton? You're under a vest.
Work photos:
My profile link:
https://green.imascientist.ie/profile/tiffanyslater/
---
---
---