Profile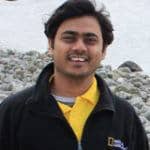 Srikumar Roy
My CV
Education:

Uni of Bergen, ETH Zurich, TU Delft, RWTH Aachen

Qualifications:

PhD, MS, MSc, BSc (Honors)

Work History:

Yes

Current Job:

Postdoctoral Fellow
Read more

Hi there !! I am an Indian guy by origin, however, I have lived, studied and worked in many different countries such as the USA, Germany, Netherlands, France, Italy, Norway, Swiss, and Ireland. This is my 5th year in Ireland, and I love it here so far…

I finished my PhD in seabed fluid flow and seepage studies in the western Spitsbergen fjords of the High Arctic, at the University of Bergen and the University Centre in Svalbard, Norway. He was working as a commercialization geophysicist with Schlumberger before joining iCRAG. He graduated with a Joint MS in Applied Geophysics from ETH Zurich, RWTH Aachen and TU Delft; and a BSc in Exploration Geophysics from the Indian Institute of Technology, Kharagpur, India.

Read more

I work on natural gas hydrates, which are important because of their potential importance as a near-future clean energy resource and their role in climate. Large concentrations of gas hydrates exist below the seafloor along the continental margins and trapped under the permafrost in the Arctic. Immense amount of energy is stored in hydrates: a cubic meter of methane hydrate compresses as much as 168 m3 of natural gas (methane). And there are gigatonnes of it stored in the sediments of the oceans. Gas hydrates will dissociate (separate or split) as a consequence of global warming. Ocean warming-induced gas hydrate dissociation can create gas plumes at the seafloor, releasing greenhouse methane gas into the ocean and atmosphere.
My Interview

How would you describe yourself in 3 words?

marine geoscientist

What did you want to be after you left school?

pilot

Who is your favourite singer or band?

Kishore Kumar

What's your favourite food?

Mysore Masala Dosa

What is the most fun thing you've done?

bunked a class in high school and went to play cricket with friends all day long
---
---
---