Profile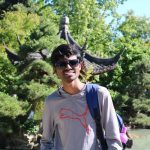 Souvik Kundu
Your Scientist ID:
Education:

Swami Pranabananda Vidyapith(India), Vellore Institute of Technology(India), UCC(Cork, Present)

Qualifications:

Bachelor of Technology(Electronics and Communication)

Work History:

I worked as a research intern at Kamloops, near Vancouver in Canada(funded by Mitacs, Canada Govt.)

Current Job:

Research Student at Tyndall National Institute, UCC

Employer:

I am a research student of Tyndall National Institute, UCC, Cork. I am funded by CONFIRM, SFI(Science Foundation Ireland) centre.
About Me: Hard-worker as well as smart worker and always try to find new solutions for a single problem. Creative, innovative and enthusiastic always.

Read more

I am 22 years old and live in Cork City. I like to meet people from different countries and knowing their culture. I am the Vice-President of Indian Society of UCC. I have many hobbies, like sketching, painting(mainly Charcoal Painting), photography with my cute DSLR(mostly nature, flowers are my favourite) and playing tabla(Indian Musical Instrument). I started playing Ukelele. I talk a lot.

Me and my brother enjoying at sea beach in India.

These are some of my photographs

These are few of my paintings.

My Work: I am doing research in Haptics, which means giving the feel of touch artificially. It means you can touch something in Augmented Reality and Virtual Reality without actually touching the substance.

Read more

You will be able to feel what robot feels and you can make robots work as per your wish. The robot will do what you will do. Doctors can do operations from any part of the world or people can drive cars sitting at a place anywhere maybe in house also. This technology will give the fully immersive VR gaming experience. The glove we developed in this research institute helps to track the hand and make a virtual hand in Virtual World(Virtual Reality).

My Typical Day: I can't wake up early since I go to sleep late night after watching Netflix. But we all should wake up early which is good for health. I go to work and then do experiments in lab but most of my time goes reading various research works of different scientists from all over the world. Coding is also a part of my work and I feel very happy when code works after long time of frustration when it doesn't work. It's a great feeling. I don't work on Saturday and Sunday and go to visit different places and taking photos or sitting in my house and do drawing. I am also involved with Scribble society, so, do various art works like making bird house painting, making lighting jars etc. I go to hiking sometimes.
My Interview

How would you describe yourself in 3 words?

Creative, Enthusiastic and Talkative

Who is your favourite singer or band?

Passangers

What's your favourite food?

Biriany(Indian dish)

What is the most fun thing you've done?

Went to geography exam preparing for history, I didn't check the exam routine.

What did you want to be after you left school?

Artist

Were you ever in trouble at school?

Not anything significant but like small things getting punishment for not doing homework(rarely happened).

What was your favourite subject at school?

Organic Chemistry

What's the best thing you've done as a scientist?

I published papers and one group of scientist from china referred my research work.

What or who inspired you to become a scientist?

Everyone

If you weren't a scientist, what would you be?

Photographer or Artist

If you had 3 wishes for yourself what would they be? - be honest!

1. To travel all over the world for free 2. To have a big white canvas and have all the possible colours to paint 3. To be famous

Tell us a joke.

What did the left eye say to the right eye? Between you and me, something smells.
Work photos:
My profile link:
https://green.imascientist.ie/profile/souvikkundu/
---
---
---