Profile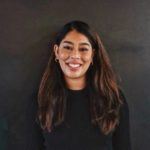 Nina Kanti
Your Scientist ID:
Education:

DCU - Electronic & Computer Engineering with a Major in Internet of Things

Qualifications:

Bachelors in Engineering

Work History:

Deloitte

Current Job:

Deloitte

Employer:

Deloitte, Blockchain Lab: I work in the consulting side of Deloitte which help clients to develop blockchain capabilities. From identifying the best use case, assessing suitability, developing proof of concepts and building market-ready solutions.
About Me: Solving cool problems and working on technology, I also love trying new foods!

Read more

A little fun fact about me is I've never been in the same school for more than three years. College is the longest time I've been in one place. I wouldn't have it any other way – I made some cool friends around the world that I know can call up and visit whenever I want.

I studied engineering in DCU where I used to represent my college in boxing tournaments. This was a great outlet for me to destress and get my mind of everything, I stopped boxing after college but it's my new year's resolution to take up boxing again.

My Work: Electronic and Computer Engineer developing mobile applications and working with new technology

Read more

I work as a developer in a consulting firm at the heart of the Dublin Docklands. I work with new technology like Blockchain which basically means something working on young technology that it's never been used or even thought of before. I like to call myself a full-time problem-solver, the exciting part of my job is that I get to really come up with new ideas and ways to complete tasks that have never been done before the sky is only the limit!

One of the reasons I choose to do engineering is because its soo broad you can go into many different industries with engineering like making artificial limbs, kidneys which can save peoples lives, or become a developer who can develop apps, video-games and make some cutting edge websites or even a mechanical engineer who get to design and build cars/aeroplanes. Apart from the career aspects engineering has taught me to be more practical in my personal life like automating my apartment and being able to develop my own ideas at the comfort of my home.

My Typical Day: Flexi-time and working from home: decisions decisions

Read more

It changes day-to-day I was in a relatively small team which means I get to wear a lot of different hats in the office. I'm not just a developer, I'm involved in the business and strategy side of blockchain technology too, which I enjoy. I get to teach and speak at various tech events, both internally and externally, from my clients to secondary school students about blockchain.
My Interview

How would you describe yourself in 3 words?

easy-going, adventurous, adaptable

Who is your favourite singer or band?

Ariana Grande

What's your favourite food?

Tiramisu

What is the most fun thing you've done?

Helicopter around the Grand Canyon

What did you want to be after you left school?

I wasn't sure I took a year out after school to decide and travel

Were you ever in trouble at school?

Not often I used to be late to school sometimes

What was your favourite subject at school?

Physics

What's the best thing you've done as a scientist?

Building the Hyperloop, a new form of transport, and presenting it to Elon Musk and the top SpaceX Engineers

What or who inspired you to become a scientist?

My Leaving Cert. Physics teacher

If you weren't a scientist, what would you be?

Psychologist

If you had 3 wishes for yourself what would they be? - be honest!

It's a hard question give me a few hours!

Tell us a joke.

Hi Siri, tell me a joke
My profile link:
https://green.imascientist.ie/profile/ninakanti/
---
---
---