Profile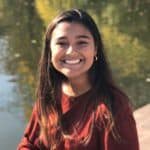 Maria Isabel Meza Silva
Curriculum Vitae
Education:

University of Los Andes, Colombia

Qualifications:

Industrial Engineer

Work History:

I was a teaching assistant at the University for 1 year and a half and then I did a 6 months internship at Irish Manufacturing Research. After graduating, I applied for a full-time job and here I am again!

Current Job:

Data Analytics Researcher

Employer:

I work for Irish Manufacturing Research, a research organisation based in Rathcoole and Mullingar.

They do research in all kind of fields, from 3D printing to sustainability, and software development.

Have a look at http://www.imr.ie for more information
Favourite thing to do in science: Hands- on experiments - Who said you can't do some arts and crafts in Science?

About Me: Hola! My name is Maria Isabel but you can call me Isabel! I am 25 years old. I moved from Colombia to Ireland to work as a Data Analytics Researcher - I basically look at data and numbers all day long.. Oh, and I make pretty graphs!

My Work: Numbers and data hide no secret from me, I am a mindreader of analytics - discovering trends and making the data speak!
My Interview

How would you describe yourself in 3 words?

Enthusiastic, Positive, Kind

Who is your favourite singer or band?

Melendi

What's your favourite food?

Chicken wings (Except when they are spicy...) - Can't get enough of them!

What is the most fun thing you've done?

I travelled with my mom and my brother around Europe for a month. We learnt about different cultures, visited new places and tried loads of exotic food. It also brought me and my family even closer!

What did you want to be after you left school?

A doctor! Imagine how cool it would be to save lives?

Were you ever in trouble at school?

According to my mom, I used to like bitting kids when I was in preschool...

What was your favourite subject at school?

Maths because we use it in our day to day life, when are cooking, baking, doing sports - It is everywhere! And science because during the labs the teachers showed us how things work - chemical reactions, human body, gravity!

What or who inspired you to become a scientist?

My dad - He was an Engineer like me and he always showed me the importance and fun side of engineering!

If you weren't a scientist, what would you be?

Probably a teacher or a doctor!
My profile link:
https://green.imascientist.ie/profile/mariaisabelmezasilva/
---
---
---