Profile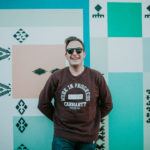 Luis Soriano
My CV
Education:

University of Navarre (Spain) and Univeristy of Applied Sciences Vienna (Austria)

Qualifications:

Bachelor´s degree in Biomedical Engineering and Master in Tissue Engineering and Regenerative Medicine

Work History:

All my work has been related to internships in several research facilities throughout Europe

Current Job:

PhD Student
About Me

Spanish biomedical engineer focused on respiratory diseases.

Read more

I am a biomedical engineer from the north of Spain. After obtaining a master degree in tissue engineering I decided to move to Dublin to carry out my PhD in regenerative medicine for respiratory diseases.

Read more

I focus my work on using novel materials to provide effective solutions for respiratory diseases. First of all, I am involved in developing models that will allow scientist all over the world to assess the effectiveness and safety  of new therapies for diseases such as lung cancers, cystic fibrosis and asthma. On the other hand, I am working on 3D Printing strategies aimed to develop solutions to offer patients in need of a tracheal implant .

Read more

My typical day starts waking up at 6.30 to get ready and do some morning exercise before starting work. Around 8.30 I meet my friends at university to have breakfast together and at 9am I start to work until 6pm. Days are usually very busy, with me running from the laboratories to the office, and some days even meeting other researchers in Dublin to discuss important experiments. After work, I usually meet friends to have a coffee and a nice chat or end up home baking or making delicious dinner.

What I'd do with the prize money

Go for a nice dinner with my family once the pandemic is over.
My Interview

How would you describe yourself in 3 words?

Friendly, loyal and funny

What did you want to be after you left school?

Doctor or Engineer

Were you ever in trouble at school?

Yes

Who is your favourite singer or band?

Bastille

What's your favourite food?

Lasagne and pizza

What is the most fun thing you've done?

Road trip trough the Alps

If you had 3 wishes for yourself what would they be? - be honest!

Cure for Covid-19, happiness and a better society.

Tell us a joke.

Why woudn´t the shrimp share his treasure? Because he was a little shellfish.
Work photos:
---
---
---