Profile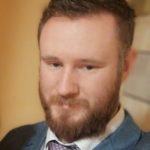 Kevin O' Brien
My CV
Education:

LC St. Joseph's College Borrisoleigh, Bachelor's Degree in Electronic Engineering from UCD, Post-Graduate Diploma in Professional Engineering from Engineers Ireland

Qualifications:

BHEng in Electronic Engineering

Work History:

Bio-Medical Research 2010-2012, ON Semiconductor 2012-2016, Boston Scientific 2016-2018, Becton Dickinson 2018-present

Current Job:

Electronic Engineering Team Lead
About Me

I'm a father of two girls, aged 11 and 1.5. I enjoy building and fixing things, and am a fan of F1 racing.

Read more

I live in the countryside in Tipperary, with my wife and two daughters.

We have 2 dogs, a Golden Labrador named Bailey and a Siberian Husky named Sergei, two budgies named Bluebell and Buttercup and a number of fish.

My older daughter plays Camogie, and I sometime help out with coaching.

On television, I like to watch documentaries and motorsports, and I like to read non-fiction and biographical books about technology and medicine.

Read more

I work for a big medical device company called Becton Dickinson (BD for short), which is based in the US, but has a big presence in Ireland, with a research centre in Limerick, and production facilities with research capabilities in Drogheda, Dun Laoghaire and Enniscorthy.

BD make a wide range of products, from syringes and needles, to fully automated diagnostic laboratories.

My work with BD focus on the design and improvement of the electronics that go into infusion pumps.  The products that are work on are used for everything from nutrition and hydration to anaesthesia and chemotherapy.

My Typical Day

My typical day involves e-mails, meeting, designs, tests, experiments, chatting with colleagues, building circuits and writing documents.

Read more

My typical day starts at around 6:45, when I get up.
I have a 45 to 50 minute commute to work.
I could live a lot closer to where I work, but I'm much happier living in the countryside.
I get to work at about 8, and start by checking my e-mails.
We work with a number of people in various locations around to world, in various time zones, so I often have a number of e-mails to read.
I reply to any questions I can answer there and then, and highlight any that I need to come back to.
Then I go for breakfast with some of my colleagues in the office canteen. Some mornings, after breakfast, we'll have a quick game of poll before getting stuck into our work.
My work is veried, and no two days are the same. I could be designing a circuit board, planning a test or an experiment, or investigating an issue reported by a customer.
It's really interesting, and I'm always learning something new.
As we work on medical devices, we have to write a lot of documents and technical reports. These are often reviewed by other engineers. This is an important part of working on medical devices, as it helps to catch any potential issues or mistakes.
Some of my time is spent in meeting, discussing projects, and some is spent in the labs, carrying out tests and experiments.
Depending on how we're feeling, and what's on the menu, we either eat lunch in the canteen, or go to a nearby supermarket or restaurant.
My work day end at about 5:30 and I get in the car to head for home.

What I'd do with the prize money

I've been lucky enough to win the I'm An Engineer competition in 2019, and planning an activity with the prize money was really difficult, but also very rewarding. I'm just happy to take part in chats and answer questions, and would like to see someone new win the prize.
My Interview

How would you describe yourself in 3 words?

Reserved, optimistic, ambitious

What did you want to be after you left school?

An architect

Were you ever in trouble at school?

Yes. I was terrible at doing homework.

Who is your favourite singer or band?

Linkin Park

What's your favourite food?

Pizza, or anything spicy

What is the most fun thing you've done?

Zip-line course in a forest in France

If you had 3 wishes for yourself what would they be? - be honest!

That my family would never have serious health issues. That I'll be able to continue working on interesting and challenging thing well into old age. To win the Euromillions.

Tell us a joke.

There are 10 types of people in the world, those who understand binary and those who don't.
---
---
---