Profile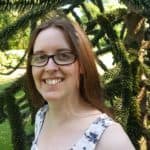 Karen Bacon
Curriculum Vitae
Education:

Santa Sabina in Dublin and University College Dublin

Qualifications:

BSc (Botany; Geology) and PhD (Plant Palaeoecology)

Work History:

University College Dublin, King's College London, University of Leeds

Current Job:

Lecturer in Plant Ecology, National University of Ireland, Galway
Favourite thing to do in science: I love working with students and seeing them become excited by science. I also love solving a problem.

About Me: I am a plant scientist and interested in plant ecology and palaeoecology (fossil plants). I enjoy reading and movies and love being outside.

My Work: I am a plant scientist and I study a wide range of things relating to plants and plant ecology. I am interested in how plants respond to climate change both today and in the past. I work with modern plants and with fossils.

My Typical Day: This varies depending on the time of year. Right now, we are running exams (online for the first time - so that is challenging) so my day focuses on preparing exams, making sure the exam runs smoothly and answering my students' questions, and then grading the exams. There is lots of things to do in the background too. During teaching term, a typical day will involve preparing lectures, lab classes and feld trips, talking to students, supervising students doing projects with me and answering lots of emails. I will also be writing papers and analysing data. In the summer, I would usually be preparing to run experiments or set up field studies.
My Interview

How would you describe yourself in 3 words?

Curious, focused, reliable

Who is your favourite singer or band?

I don't have one

What's your favourite food?

Chips

What is the most fun thing you've done?

Hiking Kilimanjaro

What did you want to be after you left school?

A scientist - but I thought I would be a physicist not a biologist

Were you ever in trouble at school?

Very rarely but I was sometimes a bit cheecky

What was your favourite subject at school?

A three-way tie between Biology, History and English

What's the best thing you've done as a scientist?

Working on fossil plants and invasive species are both very interesting

What or who inspired you to become a scientist?

I was really just interested in the world around me and that led me to pick science subjects in school and then university

If you weren't a scientist, what would you be?

I don't know. Maybe a journalist.

If you had 3 wishes for yourself what would they be? - be honest!

Happy, healthy and some chocolate
My profile link:
https://green.imascientist.ie/profile/karenbacon/
---
---
---