Profile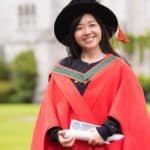 Jun Lin
My CV
Education:

University College Cork

Qualifications:

PhD

Work History:

Tyndall National Institute; ESB International

Current Job:

Researcher
About Me

I am a easygoing person and enthusiastic about my work.

Read more

My name is Jun Lin. I'm from China and I came to Ireland in 2008. I went to University College Cork and did my PhD at Tyndall National Institute – a European research centre in Ireland.  I live in Cork city. I am working now as a researcher in microelectronics at Tyndall. My job involves a lot of experiments so most of my time at work is spent in labs.

I like cooking. Whenever I have time, I try different Chinese cuisine recipes.

My favourite animal is cat not just because they are cute.  I love their dignity and the way they come to people when they need attention, which makes the cuddling time with them more valuable. I watch a lot of cat videos to relieve stress.

I also like watching food YouTube videos especially the ones in which the Youtubers travel around the world to discover what people eat and their food culture.

Read more

I study semiconductor materials that are used to make a device called transistor – the most basic building block of computers. A transistor is just like a tiny electric switch. A lot of transistors are packed up to make integrated circuits, which are used in our modern devices like mobile phones and laptops. Transistors are usually made of silicon because of its abundance on earth and its excellent behaviour in a transistor. We need to shrink the sizes of these transistors so that more of them can be packed together in the integrated circuits. Then our computers and devices will become faster and more powerful with more functions. But it is getting harder and harder to keep shrinking these silicon based transistors therefore we need to look for new materials to replace silicon. I've been working for years on the behaviour of transistors made from III-V materials, which are compound  semiconductors containing elements from groups III and V in the periodic table, because they have much higher mobilities than silicon so transistors made from them can be way much faster as a switch. I am currently working on 2-dimensional (2D) material, which is another potential material to be made into transistors. 2D materials are the flattest and thinnest material possible: they are only one atom thick! So we could cram loads of them together into integrated circuits. But in order to make them work properly in a transistor, every atom in them needs to be in the exactly right place, and this is extremely difficult to achieve especially when we want to make 2D materials over large areas for future mass production. What I am focusing on is to test the electrical behaviour of 2D materials and looking for solutions to improve their crystallinity so that one day they can be widely used in transistors.

My Typical Day

I get to the labs, turn on the machines and get ready for another day with the tiny electric circuits. Then, I spend the whole day trying to find out which of these little devices are the best. Then I tell my friends from the lab about the best one, they tell me about their favourite ones, and we all get together and try to imagine how to make a new computer from them!

Read more

I usually get up at 8 am and have breakfast at home. I leave home and drive to work before 9 am. I'm a lab based scientist so I spend a lot of time in the labs growing materials or testing materials or devices. There is usually no specific timetable at work. I just arrange my own working schedule, which can differ from day to day. My schedule depends on when I get new samples to test and when the lab equipment is available – sometimes there is a big queue! When I'm not in the labs, I'm usually doing a lot of reading of other people's work to compare their work (methods and results) with mine. Reading published work from other scientists is essential in scientific research. Meeting with team members is another activity at work. We discuss our results and plan for future work. I usually finish at about 6 pm but sometimes I need to stay in the labs until later in the evening because some labs may not be free the next day.
My Interview

How would you describe yourself in 3 words?

humble, easygoing, good-tempered

What did you want to be after you left school?

Engineer

Were you ever in trouble at school?

Not really

Who is your favourite singer or band?

Beyonce

What's your favourite food?

Hotpot

What is the most fun thing you've done?

Visiting Morrison planetarium at California academy of sciences

If you had 3 wishes for yourself what would they be? - be honest!

1. Overloaded with ideas in science; 2. Speak more than three languages; 3. Have a cat.

Tell us a joke.

Help me with the answer.
---
---
---