Profile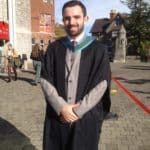 James Collins
Your Scientist ID:
Education:

University College Cork

Qualifications:

BSc (hons) Neuroscience

Work History:

University College Cork

Current Job:

PhD Student

Employer:
About Me: I'm a PhD student in University College Cork and a typical mad scientist!

Read more

I live in Ireland with my family. I'm halfway through my PhD to get my doctorate (Dr.). I'm a huge Game of Thrones fan too!

My Work: I'm a scientist very interested in how stress affects the gut and the brain and Im looking at the millions of bugs that live inside and on us and how they help the brain and gut work.

Read more

I'm working on how stress when you're young can affect how you feel and behave when you're older. I'm also looking at how your gut and your brain talk to each other and what happens when they don't communicate properly and things start going wrong and looking at ways to fix that.

My Typical Day: I get up in the morning, go into the lab, and run experiments. I spend the day looking at different things about the gut and the brain. I also get to use a microscope that's as big as a room!

Read more

I do research on the computer about what I'm interested in. This gives me ideas to make more experiments to answer difficult questions like how stress affects the brain and the gut. After the experiments, I get to see what I've done looks like under a huge microscope to see if my experiment worked!
My Interview

How would you describe yourself in 3 words?

Hard-working, punctual, friendly

Who is your favourite singer or band?

Billie Eilish

What's your favourite food?

Beef Stew

What is the most fun thing you've done?

Rowing

What did you want to be after you left school?

A Neuroscientist

Were you ever in trouble at school?

No O:)

What was your favourite subject at school?

Biology

What's the best thing you've done as a scientist?

Research the effects of stress to try to help people

What or who inspired you to become a scientist?

My interest in science

If you weren't a scientist, what would you be?

Ive always wanted to be a scientist!

If you had 3 wishes for yourself what would they be? - be honest!

Unlimited research funding, A big house, lots of published papers!

Tell us a joke.

How to you cut the ocean in half? With a sea-saw!
My profile link:
https://green.imascientist.ie/profile/jamescollins/
---
---
---