Profile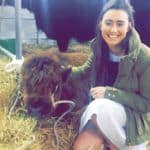 Hazel Rooney
My CV
Education:

Primary School: Ashford National School. Secondary School: Dominican College Wicklow. University: UCD

Qualifications:

I have an undergraduate degree in Animal Science and a PhD in Animal Nutrition

Work History:

During college I worked in a very cute coffee shop called 'Cafe Latte'

Current Job:

I now work in Teagasc as a Post-Doctoral researcher
About Me

Hello everyone, my name is Hazel and I am an animal scientist. I love all types of animals but especially pigs and dogs!

Read more

I grew up in the countryside in county Wicklow and went to college in UCD. However, I now live in Cork with three girls that I work with. We all work on farms with animals so outside the house is always full of wellingtons!  A few other things about me:

I have one golden retriever whose name is Waldo and he just turned 8 years old!
I love Disney movies and my favorite Disney princess is Ariel
I absolutely love sports and I play hockey and row
I believe that pineapple is not a pizza topping

Read more

I work as an animal scientist and my job is to think of new feeding strategies for sows and their piglets. Sows need to eat food that will support their milk production, while piglets need food that will increase their growth. So I try to think of new feed ingredients and supplements that can be given to sows when they are pregnant and also when they have had their litter of piglets, and also new feed ingredients that can be given to piglets throughout their life.

Once I have thought of something, I then set up an experiment using real pigs to test it out. I measure things like piglet weight to see if they are growing more from the new ingredient or take milk samples from the sow to see if it makes her milk more nutritious.

My Typical Day

My day on the farm usually starts at 8 am. The first thing I do is check on all of my animals to make sure they are ok and then I start with feeding. The sows get fed first thing and are always hungry and eager for their food! I then look after the piglets and other pigs. After that, the experimental work on the farm starts. Once the farm work is finished, I might have to analyse samples in the lab or go to the office and catch up on emails and paper work.
My Interview

How would you describe yourself in 3 words?

Ambitious, determined, enthusiastic

What did you want to be after you left school?

A vet

Were you ever in trouble at school?

Sometimes.. mostly for being too chatty during class

Who is your favourite singer or band?

Beyonce

What's your favourite food?

Chicken pesto pasta

What is the most fun thing you've done?

Spent a day with elephants

If you had 3 wishes for yourself what would they be? - be honest!

To become a lecturer, to be healthy, to be rich
---
---
---