Profile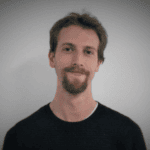 Gary Munnelly
Your Scientist ID:
Education:

I went to Balreask primary school in Navan and Ashbourne Community School after that. I did my degree in Trinity College.

Qualifications:

I have a bachelors degree in engineering and a certificate of bravery for having my tonsils removed when I was 6.

Work History:

My first summer job was in a warehouse stacking boxes. After I went to college I did a research internship in UCD, an engineering internship in Microsoft, some developer work in the Royal College of Surgeons, bits and pieces of freelance work but my PhD is the longest time I've spent working on any one thing.

Current Job:

PhD Student

Employer:

Adapt Centre, Trinity College
About Me: I'm a dye-in-the-wool nerd from Co. Meath.

My Work: I teach computers how to read books, diaries, letters, and other text based resources so they can help historians to study the past.

Read more

Right, so, here's the big thing you need to know about computers: they are duuuuuumb! Painfully dumb! Dumber than the dumbest person you know. So dumb that if they took an IQ test, they would fail it. That means that if you need them to do something smart you need to figure out how to tell them what you want them to do in really simple, totally unambiguous steps. Computers seem smart because a bunch of scientists and engineers have come up with some extremely clever ways of telling them how to do the things we need them to do. But the computer never understands what it is doing. It just does as it is told.

My research is about trying to teach computers how to create associations between words and things. For example, if I say the name "Ed Sheeran", your brain somehow (amazingly) knows who I am talking about. I just say the name and you immediately know he is a musician who plays guitar and had a song that was on the soundtrack for The Hobbit. If you read that sentence, your brain just did another really amazing thing. It saw the words "The Hobbit" and knew that I was talking about a film. You knew that there was a relationship between Ed Sheeran and The Hobbit (maybe because I just told you or maybe because you heard it somewhere else). If you are a gigantic nerd like me, you may also know that I am talking specifically about the second Hobbit film, because that was the movie for which Ed Sheeran wrote "I See Fire". Guess what! Your brain probably did it again, assuming you know the song "I See Fire". You could probably hum the tune if you had to.

This is an amazing thing that your brain does and we don't really know exactly how you do it (at least, not well enough that we can tell a computer how to do it properly).

So my research is all about getting computers to perform these kinds of associations. We give the computer a bunch of text to read and it is able to tell us about who is in the collection and what relationships exist between them and things like that. I spend a lot of time doing this for historians so they can learn about people in letters and diaries and books more efficiently. The challenge is figuring out how to make the computer do this in a sensible, clever way.
My Interview

How would you describe yourself in 3 words?

Cannot be described

Who is your favourite singer or band?

Tom Waits. Hands down. No question.

What's your favourite food?

I'm eating breakfast while typing this, so right now my favourite foods are sausages, beans, eggs, toast, rashers, and good old fashioned puddin'.

What is the most fun thing you've done?

I wrote a game to teach young people how to program in Python. Basically the students wrote AI bots to fight in matches (think Pokemon, but with wizards). We ran a competition after 10 weeks, ate pizza and watched a bunch of bots fight it out on a projector.

What did you want to be after you left school?

I had no idea. I was somewhere between being an author or a programmer. I loved video games, so programmer won out. In college I learned about how much I could do with computers and ultimately decided to spend more time learning about that rather than building games (although I still sometimes write games for fun).

Were you ever in trouble at school?

Nope. I was a total swot. Innocent face -> 😇

What was your favourite subject at school?

English. I love reading and English was a great excuse to read a book.

What's the best thing you've done as a scientist?

I've built a tool for helping historians process entities in cultural heritage texts. We're still figuring out whether or not it's any good, but I'm pretty chuffed with it.

What or who inspired you to become a scientist?

A short interview with a man who had a heart transplant. Science gave him a second chance at life. I wanted to find ways to make people's lives better just like the doctors who helped him, but I'm squeamish, so I couldn't work in medicine. I had to get creative. A lot of the work I do can theoretically be applied to medicine, but I test it on historical data.

If you weren't a scientist, what would you be?

Unemployed, I suppose.

If you had 3 wishes for yourself what would they be? - be honest!

1. To know what the KFC seven secret herbs and spices are. That's pretty much it. You can have the other two if you want them.

Tell us a joke.

There are 10 types of people in the world: those who understand binary numbers and those who don't.
My profile link:
https://green.imascientist.ie/profile/garymunnelly/
---
---
---