Profile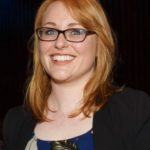 Fiona Malone
Making masks for health care workers #projectvisorgmit
My CV
Education:

Scoil Muihure, Greenhill, Carrick on Suir, Co. Tipperary (2003 - 2009), University of Limerick (2009 - 2013), Galway Mayo Institute of Technology (2013 - 2018)

Qualifications:

Bachelor of Engineering (Honours) in Biomedical Engineering, PhD in Biomedical Engineering

Work History:

UL Arena (2010 - 2013), Abbott Vascular (2011 - 2012), CABER (2012), MET Gateway (2018-2019)

Current Job:

Lecturer and Biomedical Engineer
About Me

I am a biomedical engineer and lecturer at Galway Mayo Institute of Technology. I'm also a science communicator, podcast host and all round sports fan!

Read more

I'm from Kilkenny (up the cats!!) but live in Galway with my boyfriend and we are massive rugby fans. In my spare time I enjoy swimming, weightlifting, yoga and painting. This is the last painting I did 🙂

I love going to concerts and music festivals. It's a dream of mine to go to Glastonbury one day! Last year I got to see Fleetwood Mac, Pink, Hozier and Metallica! I can also play the drums 🎵.

I work a lot in science communication where I try to bring science, technology, engineering and maths to the public and encourage more young people, especially girls, to study these subjects. It's really rewarding and a lot of fun! I also   co host a podcast with my friend Leah called NextGenFem, where we interview women from all walks of life and listen to their stories about how they got to where they are today.

Read more

I teach maths and mechanical dissection in the mechanical and industrial engineering department at Galway Mayo Institute of Technology and I absolutely love it. In maths, we use topics like algebra, differentiation and integration to solve engineering problems. In mechanical dissection, we take apart things like drills and motors and figure out how and why they work. We then practice our drawing skills by drawing all the components out on a computer software (CAD).

As a biomedical engineer, I specialize in making biosimulators for medical research and medical device testing. A biosimulator is like a robotic dummy that behaves like a part of the body. They are useful because we can test devices on these robots instead of on humans or animals and design and build better devices. Nurses and doctors can also use these robots to practice different treatments and surgeries before operating on the patient.

My research looks at atrial fibrillation, a common irregular heartbeat that increases a patient's risk of stroke. During atrial fibrillation, the left side of the heart beats out of time with the rest of the heart. When this happens a blood clot can form and in a single heartbeat it can exit the heart and start travelling around the body. If the clot travels toward the brain it might become stuck within the tiny blood vessels of the brain and cause a stroke.

To figure out why some clots go to the brain and some don't, I used 3D printing to make all the blood vessels that travel from the heart to the brain. I then injected blood clots to watch where the went to mimic a stroke occurring. In the video I injected 5 blood clots and all ov them trvelled through the arteries that bring blood to the brain!! This biosimulator can help design new devices to treat stroke and the results can help to support a prediction algorithm for stroke patients.

My Typical Day

I get to college before 9am when class starts. After class, I meet with my friends for lunch. In the afternoon, I answer a LOT of emails. If I am not in the lab 3D printing some fake body parts or doing experiments on these parts, I am in the office researching new medical devices. I spend some time drawing and designing. I usually make a lot of presentations to explain new designs or what I found out in the lab that day.

Read more

Everyday is a little different but I teach everyday. I teach in GMIT which is a college in Galway.

I spend a lot of time reading student reports and grading papers! When I'm not in class I am usually in meetings with medical device companies discussing new medical devices or possible biosimulators that might be useful to them. Sometimes I travel to hospitals and work with doctors and surgeons on new medical devices.
My Interview

How would you describe yourself in 3 words?

Creative, motivated, happy.

What did you want to be after you left school?

An artist or a Radio DJ but I'm so happy I'm an engineer helping people

Were you ever in trouble at school?

Not really, I liked school!

Who is your favourite singer or band?

Fleetwood Mac, but I really like Lizzo at the moment she's class!

What's your favourite food?

Crisps! Any type, any flavour I'll eat them all!

What is the most fun thing you've done?

Went to the rugby world cup in Japan! We got to travel all over the country and see some great rugby matches.

If you had 3 wishes for yourself what would they be? - be honest!

1. To design a device that helps people all over the world. 2. To be a dog mom. 3. To go to Glastonbury music festival

Tell us a joke.

What do you call a fake noodle? An impasta!
Work photos:
---
---
---