Profile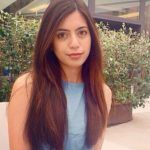 Farina Kokab
Your Scientist ID:
Education:

I went to the University of Birmingham and Aston University for my education

Qualifications:

BSc, MSc, Ma, PhD, FHHE, MBPsS

Work History:

University of Birmingham

Current Job:

Research Fellow

Employer:
About Me: I am a researcher in Birmingham, I am interested in how people think and feel.

Read more

I live with my husband who is also a researcher. I have a pet cat called Raja (like the tiger from Aladdin) who lives with my parents. I love to bake and cook for my family- but I also love eating out. I have watched FRIENDS on repeat several time and enjoy a good Netflix binge. I like to spend my free time painting, reading, doing nail art, yoga and planning fun things to do with my friends.

My Work: I am a scientist who talks to people to find out what they think and how they feel about something. This is important because we want to know how people feel when they are unwell, have to go to the hospital/speak with their doctor

Read more

I am a behavioural researcher-this means that I spend my time talking to people or asking them to write their feelings. Then I look at what they have said or written and try to understand what it all means. I share what I find with the people at work but also across the world so that we all know what it feels like to be in a particular situation. An example of this is speaking to women who are about to have their babies, so we know if they are happy or sad when they go to the hospital or what their experience was like.

My Typical Day: My day is different every day! Sometimes I am speaking with people in their homes, at the hospitals or I am at my desk doing lots of writing and looking at people's writings/what they have said. During the Autumn and Spring I teach students about health and the skills they need to talk to people about it.

Read more

Usually when I get to work the first thing I do is organise my things, put on my humidifier and answer my emails. Then I will take a short break and start doing the tasks that I have set for myself. Sometimes in the day I will have a meeting at the University or at a hospital and sometimes I will have to go teach students.
My Interview

How would you describe yourself in 3 words?

open minded, creative and fun

Who is your favourite singer or band?

Beyonce

What's your favourite food?

Pasta

What is the most fun thing you've done?

upside down yoga

What did you want to be after you left school?

a scientist or a cartoonist for Disney

Were you ever in trouble at school?

No I was a prefect

What was your favourite subject at school?

History

What's the best thing you've done as a scientist?

Made people feel better

What or who inspired you to become a scientist?

My teachers

If you weren't a scientist, what would you be?

Doing something in arts or English

If you had 3 wishes for yourself what would they be? - be honest!

To be doing more drawing and painting, to eat lots of different foods, to be able to research anything I want!

Tell us a joke.

what did the right eye say to the left eye? something between us smells
My profile link:
https://green.imascientist.ie/profile/farinakokab/
---
---
---