Profile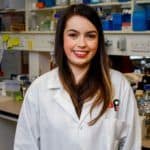 Ciara O'Donovan
My CV
Education:

Cork Institute of Technology (2011-2015), University College Cork (2015-2019)

Qualifications:

BSc (Hons) in Nutrition and Health Science, PhD

Work History:

During college I worked in a hotel and then a shop at the weekends and during the summer. I currently work in Teagasc.

Current Job:

Post doc
About Me

Post doc who enjoys baking, reading, board games, and the beach.

Read more

I am a Corkonian currently working as a post doc in Teagasc and APC Microbiome Ireland. I have always lived in Cork and completed my undergraduate degree in Nutrition and Health Science in CIT. Last year I completed my PhD where I was looking at the microbes in the guts of athletes. After I finished my PhD I was lucky to start a job as a postdoctoral researcher, which is what I am working as now.

When I am not working my favourite thing to do is baking. I love trying out new recipes for family and friends. I really like being active and try to head out for a walk around where I live when I can. I grew up near the beach so walks on the beach are my favourite when I can get there.

Read more

My work involves looking at the microbes (bacteria, fungi and viruses) in different types of environments. During my PhD I looked at the microbes that were in the guts of athletes. I was interested in figuring out if athletes had different microbes and if they function differently from non-athletes and also if there were differences between sports. Now I continue to look at the answers to these questions and I am also interested in the microbes in other environments, in particular foods. I am interested in those microbes present in a range of food environments and how they function and interact, including fermented foods.

My Typical Day

Like many people at the moment I am working from home so my working day is a little different from before. Just a lot of time on the computer.

Read more

With working from home at the moment I try and get up and out early for a walk near where I live. After that I have the short commute to my living room where I have my at home office set up. I check on emails and make a detailed list for what I would like to get done for the day. Currently that involves a lot of analysis where I am trying to find out what microbes are present in the samples I am interested in. I also try and keep up to date with papers and research what analysis might be useful in this project. Some days we have a virtual lab meeting or I might virtually talk to some lab mates for a coffee. I try and keep writing reports until the afternoon. I usually finish the day with emails and writing a quick list of what I would like to get done the following day.

What I'd do with the prize money

Host a workshop for students to show them a little bit about what I do.
My Interview

How would you describe yourself in 3 words?

Organised, bubbly, ambitious

What did you want to be after you left school?

A 'cooker' when I was very small. A teacher as I got older.

Were you ever in trouble at school?

No serious trouble, occasionally told off for being a little too giggly!

Who is your favourite singer or band?

Hudson Taylor

What's your favourite food?

Indian

What is the most fun thing you've done?

Kayaking in a lake with bio-luminescent plankton

If you had 3 wishes for yourself what would they be? - be honest!

Be able to play the piano, have a dog, and to currently be able to see my family and friends.

Tell us a joke.

Do I know any jokes about sodium? Na.
Work photos:

I am part of a large lab group based in Teagasc Moorepark in Fermoy, Co. Cork. Here is a photo of most of our lab.

At the moment I work mostly on the computer but sometimes I plate out microbes that I am interested in to grow them on agar plates.

I have been lucky to get the opportunity to attend some international conferences and meet some great scientists working in similar areas to me.

I really enjoy getting to participate in public engagement activities at schools and public events. Below are some photos from some of the events I have participated in previously.
---
---
---