Profile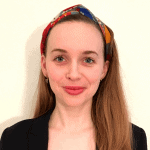 Amy Heather Fitzpatrick
Lockdown life! I am writing about the best ways to detect viruses using next generation sequencing, but I am also cooking lots of pasta, stretching and listening to podcasts.
My CV
Education:

University College Dublin, University of California Davis, Technical University of Denmark, Cork Institute of Technology

Qualifications:

BSc Food Science, MSc Food Technology

Work History:

Food Safety Authority of Ireland, Technical University of Denmark, Nestle, Marine Institute, Telligo, Centre for Talented Youth Ireland

Current Job:

PhD student
About Me

Hi I'm Amy and I love working with viruses in food. I'm always asking my friends and family to give me poo samples, especially if they have had the winter vomiting bug.

Read more

I live in Cork and research norovirus or the winter vomiting bug in water, sewage and shellfish. I love ballet, yoga, Harry Potter, hiking, my dog 'Buddy' and  learning new languages. Previously I have worked in the Marine Institute in Galway and was a member of the choir.  I lived in Denmark for three years,  where I ate lots of pastries and cycled everywhere. I also lived in California for six months during my undergraduate degree and I taught English to French children in the UK/France. Currently I am learning Italian, but I have also learnt Danish, French and some Russian. Last year I went to Kazahkstan and Kyrgyzstan on holidays and climbed a mountain that was 4000 meters tall! Next year I am going to Georgia, Azerbajan and Armenia to do more hiking and eat lots of great Georgian food. I care a lot about the environment and climate change and volunteer with a green team at work and a zero waste group in Cork. My pronouns are she/her.

Read more

My job is to find new ways to detect the winter vomiting bug, or as scientists call it 'norovirus', in water, sewage and shellfish. If you get sick with this bug you usually end up with diarrhea and vomiting and hopefully all of this nasty diarrhea and vomit end up in your toliet. Norovirus is so violent some people end up vomiting and having diarrhea at the same time…. When you flush your toilet, pipes connect your home to a sewage network and of course a big sewage factory or treatment plant. Unfortunately, there are not enough of these pipes and the treatment plants are out of date and the raw or untreated sewage ends up in the ocean.

This is raw sewage, so all of the virus and bacteria that you have in your poo/pee end up in the ocean/sea. This is problem of course for the fish in the sea, as they might get sick, but also for people who swim in the open water or who eat shellfish raw/uncooked. Shellfish like oysters, mussells, clams, are bivalves or filter feeders, so they basically drink liters and liters and liters of water an hour. Sometimes up to 100 liters an hour! The shellfish have digestive systems that have areas called ligands, that act like sticky tape for viruses. Once the viruses stick to the ligands it is very difficult to remove them. So I do a lot of work trying to take the virus out of the oyster, check how much virus is there and develop methods to check the types of viruses that are present. I also want to know why certain viruses are found in sewage and in the ocean, but are not found inside shellfish. What makes those viruses different to the winter vomiting bug? Why don't they stick to the oysters?


So I use a method called Next Generation Sequencing methods to detect the winter vomiting bug and other viruses. Once I know the types of viruses ending up in our shellfish we can start to look at ways to reduce the viruses in sewage and shellfish.

My Typical Day

In my job I don't have a typical day. I can say for certain every day starts with at least one espresso and a big bowl of porridge. If I am in the lab in Cork, then I am running different experiments in the lab or analysing the results on the computer. Other days I teach students at university or I work from home and write papers. Often I travel to Galway to collect samples or discuss new experiments with my colleagues.

Read more

In my job I don't have a typical day. I can say for certain every day starts with at least one espresso and a big bowel of porridge.

If I am working in the lab, then I walk to meet my friend Desiree at 07:10 , who is from Spain and she drives us from Cork city to Teagasc Moorepark, Fermoy. Once I get to the lab, I open up my lab notebook. Your lab notebook is like your diary and your bible. You have to write down absolutely everything that you do, including any mistakes that you make. I use a notebook online as I have really messy handwriting and change my plan for the day a lot. I find it is easier to edit the online lab notebook than have to cross out the incorrect information in a physical lab book.

I do a lot of different types of experiments as I am comparing multiple ways of doing the same thing and checking which way gives the best results. So no lab day is typical. This can be rewarding but also very frustrating. Nine our of ten times, I get negative results and have to go back to my notes and try another version of the experiment. It can take 6 weeks to find a method that works and it is important to be positive. In research, the reality is that nobody knows the answers, you have to find them or discover them. That can be exciting but its hard work.

Other days I teach students at university how to work in a lab. The labs are two hours long and the students have to hand in a report before and after the lab which I correct. I demonstrate the techniques to the students and try to answer any questions that they might have.

Often I travel to Galway to collect samples or discuss new experiments with my colleagues.When I go to Galway, I stay at my friend's house and she lives a five minute walk from the Marine Institute,  so I can have a lie in. My supervisors in Galway and I will have a meeting in the morning to talk about the project and our plans for the day. Then I will go to the lab and try different ways of taking the virus out of the oyster or different ways of getting lots of DNA from the virus. Before I go back to Cork, I collect samples I want to work with and the reagents and have a final meeting.

The best part of the PhD is that some days I can work from home. When I work from home I open up my laptop and try to read all the new papers published about norovirus. I try to write about the experiments I have done in the lab and then I spend a lot of time programming to statistically analyse the results. I love programming.

What I'd do with the prize money

I want to demonstrate to the students in a few schools how water treatment works and how dirty water can impact the environment around us. I would like to do this by using a home made water filtration system with different samples of water, from clean and dirty places. Then we can put the cleaned and unclean water into a tank with oysters, and show how oysters clean water for us too by opening them up and looking at the dirt collected inside them.
My Interview

How would you describe yourself in 3 words?

Passionate, determined, scatty

What did you want to be after you left school?

Archaeologist, pathologist or dietician

Were you ever in trouble at school?

Yes. All the time, for talking and singing. I was the class chatterbox/jukebox

Who is your favourite singer or band?

Christine and the Queens, Bon Iver, Walk the Moon

What's your favourite food?

Coffee. Coffee. Coffee. There is no life without coffee.

What is the most fun thing you've done?

Trekking for 90km in Kyrgyzstan, carrying my own tent, food and clothes.

If you had 3 wishes for yourself what would they be? - be honest!

1. Life time supply of coffee 2. Hogwarts was real and I could retrain as a wizard 3. Research money so I could continue to work with viruses

Tell us a joke.

What type of photos do biologists take ? Cellfies...
---
---
---