Profile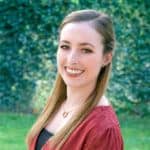 Aisling Ryan
My CV
Education:

2nd level: Coláiste Íosagáin 3rd level: Trinity College Dublin and RCSI

Qualifications:

I have a bachelors degree in medicinal chemistry (from Trinity College Dublin), and I am in the final year of my PhD (in RCSI)

Work History:

I have had lots of different jobs - I was a babysitter all through my teenage years, I have given grinds (private tutor) for the past six years, I worked in Pandora during my holidays, and I have also worked in two different chemistry research labs!

Current Job:

I am currently in the final year of a PhD in inorganic medicinal chemistry (making treatments for cancer). Funded by the Irish Research Council (IRC), associated with the SFI Research Centre for Pharmaceuticals (SSPC)
About Me

I love nature and the outdoors, especially bringing my two dogs for walks and taking photos of the sky at sunset. Tá Gaeilge agam. Is féidir libh ceisteanna a chur orm as Gaeilge más mian libh :)

Read more

I live in Dublin and have two cats and two dogs. I love to bring my dogs for walks everyday. During quarantine I have started running, but because my dogs are old they don't accompany me! I love taking simple photos of the sky with my phone camera, especially during a colourful sunset. Although I don't play the piano I love to listen to piano music. My favourite is any song by Ludovico Einaudi!

Read more

I am a chemist and I work in a laboratory. In the lab I have all kinds of different flasks and beakers that I use to hold chemicals. I will plan which chemicals I could mix together to make a new medicine and what method I could use (just like when you are baking a cake at home!). I need to think about what temperature to use, how I will add the chemicals together, if any solid chemicals need to be fully dissolved etc. Once I am happy with a method and which chemicals/ingredients I need to use I will go to the lab and setup my reaction (like adding all of my ingredients into a bowl and mixing them). Sometimes it will take an entire day for my reaction to be finished (like keeping a cake in the oven for a day to cook)! I need to leave it turned on (reacting) overnight because it takes a long time for the medicine to form. The next day I return to the lab and see if my reaction has been successful. If my reaction worked I can then mix my new medicine with cancer cells.

For this I need to go to a different laboratory that is for biology. I can add my medicine to a dish that has some cancer cells in it. Then I leave the cancer cells and medicine for a few days. After a few days I will check the cancer cells, and if they have died it means that my drug was successful! More tests can be done by other scientists using the medicine I made to try and treat cancer in animals.

Most of the time it takes a while for me to find the correct method/recipe to make the medicine. Just like if you bake a cake and it gets burnt, or it doesn't taste nice, or doesn't rise- I need to go back and make it again until it is perfect!

My Typical Day

I read about work that other scientists have done to make medicine which helps me to decide which recipe/method and ingredients/chemicals I need to use. I then put on my lab coat and safety glasses and I go to my lab and add chemicals together to make some medicine.

Read more

This is a purification technique I use called column chromatography

I go to my office at the same time you go to school each morning. When I get to my desk I usually chat to my friends and read any emails I have. I will then plan my lab work. This involves either reading about how other chemists have made medicines similar to what I want to make (just like if you wanted to invent a new cake flavour you would look at the recipes and methods of other cakes to get an idea of how to do it!). Then I will use pen and paper to write out my method and what chemicals I plan to use. If I need to find a chemical I use a special computer in my lab that is like a library system. I just type the name of the chemical I want to use and the computer will tell me which press I need to look in. I will then get all of my chemicals ready and I will mix them toegther using the method I chose in my office. Like baking a cake, my chemicals take a while to react. Often I will leave the chemicals mixing overnight when I will go home in the evening time. The next day I can collect the medicine and I can use machines to analyse it. The machines can tell me if the powder I made is really the medicine I wanted to make. If the medicine is not correct I need to find a different method, or different chemicals and start again! Sometimes the medicines can look very nice- they can be lots of different colours and sometimes they appear as beautiful crystals!
My Interview

How would you describe yourself in 3 words?

Friendly, chatty, open-minded

What did you want to be after you left school?

A pharmacist

Were you ever in trouble at school?

I used to annoy some teachers because I never stop talking!

Who is your favourite singer or band?

Beyoncé

What's your favourite food?

Pizza

What is the most fun thing you've done?

I travelled around Thailand and got to wash and feed elephants in a national park!

If you had 3 wishes for yourself what would they be? - be honest!

1. That my dogs could live forever 2. That I could age more slowly 3. Everyone else in the world also got three wishes!

Tell us a joke.

Q: Why did the dinosaur cross the road? A: Because chickens hadn't evolved yet!
---
---
---